Going on a Date? Lookup Child Sex Offenders by Photo
Steering Clear of Child Sex Offenders: Online Dating Tips for Single Moms
Online dating has revolutionized the way we meet new people and explore potential relationships. Yet, it also presents a host of challenges, particularly for single mothers. Given the nature of their responsibilities and the need to ensure not only their safety but also that of their children, the stakes are even higher. Among these concerns, one stands out: the presence of child sex offenders and pedophiles on dating platforms ready to exploit single mothers in order to get access to children.
In this article, we delve into essential tips and effective strategies for single moms navigating the complex terrain of online dating, focusing on how to steer clear of potential threats such as sex offenders. From understanding red flags to utilizing powerful tools like FaceCheck.ID, we aim to empower you with information and resources to make your online dating experience safe, enjoyable, and successful.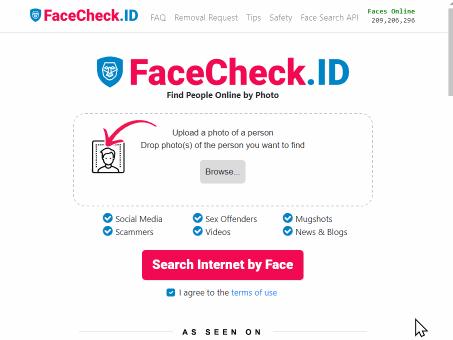 Searching Sex Offenders by Photo Takes Only a Minute!
Recognizing Red Flags: Key to Safe Online Dating
An essential aspect of ensuring your safety while dating online is recognizing red flags. Certain behaviors or patterns can signal potential dangers. For instance, if someone is overly eager to meet your children, insists on meeting in private settings, displays overly aggressive behavior, or doesn't respect your boundaries, these are all cautionary signs. It's important to trust your instincts, as they can often guide you away from problematic situations.
Online Dating Safety Measures: Proactive Steps for Single Mothers
Being proactive about your safety can go a long way in protecting you and your children. Here are some steps you can take: First, keep personal information private until you feel entirely comfortable and secure. Second, when arranging a first date, opt for public places and consider letting a trusted friend know about your date. Most importantly, don't feel pressured to rush things – take your time to get to know someone before introducing them to your children.
Technology to the Rescue: Leveraging FaceCheck.ID for Safe Dating
In this digital age, technology can provide powerful tools to enhance your safety. A platform like FaceCheck.ID uses facial recognition technology to match potential dates against a database of registered sex offenders and known pedophiles. This tool can serve as a critical line of defense, helping single mothers to verify the identities of potential partners, providing an additional layer of protection.
Communication and Boundaries: Navigating Relationships
As a single mom, setting clear boundaries is crucial, not just for you, but for your children as well. Communicate your status as a single mom early on, but let the relationship with your potential partner develop before introducing them to your children. By setting these boundaries, you can ensure a gradual and comfortable transition for your children, while protecting them from potential harm.
Stigma, Misunderstandings, and Emotional Balance in Single Mother Online Dating
Beyond these, there's also the unfortunate stigma and misunderstanding sometimes associated with being a single mother. Some potential matches may lack a full understanding of the responsibility and commitment that parenting involves, which can lead to potential biases. Balancing your emotional needs with those of your children can occasionally stir feelings of guilt and anxiety, adding another dimension to the challenges of online dating.
Finding the Right Match and Other Challenges
The search for a match who resonates with your lifestyle and appreciates your role as a mother adds another layer to these challenges. There are also the delicate matters of managing interactions with ex-partners, balancing finances—since dating often involves some costs—and maintaining energy levels amidst your numerous responsibilities.
Emotional Readiness and Online Dating as a Single Mother
Not to forget, there's also the task of managing emotional readiness. If you've recently separated or undergone a difficult breakup, dealing with the baggage of past relationships while trying to start anew can be challenging. All these factors make online dating as a single mother a unique experience.
Safety Risks of Online Dating for Single Mothers
Despite the conveniences, online dating does carry certain safety risks, which single mothers should be aware of and prepared for. One disturbing aspect is that single mothers can sometimes be targets for sex offenders. They might perceive you as vulnerable, exploit your desire for companionship, or view dating you as a way to gain access to children.
Understanding and Countering Manipulative Tactics
Manipulative tactics might be employed to gain your trust under the guise of understanding and offering help. Recognizing these risks, spotting red flags, and staying vigilant can significantly ensure your safety and that of your children.
Online Safety Tips for Single Mothers
With knowledge of potential risks, you're now ready to take decisive steps towards safeguarding your online dating journey. Start with a slow, steady pace. Thoroughly vet your potential dates—there's no need to rush into meeting someone until you feel completely ready. Maintain a degree of privacy and exercise caution about the personal information you share online.
Setting Boundaries for Your Children
It's also crucial to set clear boundaries regarding your children. Have a well-planned approach regarding when and how your new partner should meet your children. If something feels off, trust your instincts, and do not hesitate to take a step back or break off communication. Your priority is not just protecting yourself but also creating a safe environment for your children.
Using FaceCheck.ID for Online Dating Safety
In your journey towards safe online dating, FaceCheck.ID can serve as a powerful ally. This innovative tool uses facial recognition technology to check a potential date against a comprehensive database of registered sex offenders, providing an extra layer of security.
How FaceCheck.ID Enhances Your Online Dating Experience
With FaceCheck.ID, you can date with greater confidence, knowing you've taken proactive steps towards ensuring your safety and privacy. Using FaceCheck.ID is straightforward and can serve as an invaluable component of your safety strategy while dating online. It can significantly enhance your peace of mind and help you focus more on the positive aspects of online dating, such as finding a compatible partner and building a meaningful relationship.
Conclusion: Empowerment and Safety in Online Dating for Single Mothers
As a single mother navigating the world of online dating, challenges are inevitable. However, you are resilient, strong, and fully capable of overcoming them. By understanding these unique challenges and potential risks, you are well-positioned to adopt strategies and tools that ensure your safety and privacy. Using resources like FaceCheck.ID not only enhances your safety but also empowers you to have a positive and enjoyable online dating experience.
Additional Resources for Single Mothers in Online Dating
It's essential to remember that help is available. There are numerous resources you can turn to as you navigate online dating. If you ever feel uncomfortable or suspect untoward behavior, promptly report to your online dating platform or to law enforcement if necessary. Counseling services and support groups are also available specifically for single mothers facing challenges in online dating. You're not alone in this journey, and assistance is always at hand. Here's to a safe, secure, and happy dating experience!
Dating Advice for Single Moms | 7 Best Dating Tips for Single Moms
In this video, Intimacy expert Allana Pratt gives dating advice for singles moms! Get ready to get the best dating advice for single moms. Relationship expert Allana Pratt shares the 7 dating tips for all the single moms out there!
5 IMPORTANT Online Dating Safety Tips – Take Precaution, Stay Safe!
Hey guys and gals and welcome to my online dating safety tips video! Meeting up with your significant one at a local coffee shop for lunch is 'So Yesterday' compared to the new trends in dating. These days we meet, connect and get romantic with suitable singles through the use of private messages, virtual winks or by filtering out candidates by age, sex, location, self-summary, activities that they like, favorite music or movies, height or even weight.
Dating As A Single Mom | BIGGEST Lessons Learned
This video is for all the single moms out there. I know it can be tough, but I share the biggest lessons that I learned during my time dating as a single mom. Hopefully you can take something away from this video and avoid some of the mistakes that I made.
How to check if sex offenders are in your area
This video shows you how you can look into who is living near your child's school.
Sex offender check: do you know who's in your neighborhood
---
Read More on Search by Selfie
Find OnlyFans Profile by Photo using Face Search Engine
If you're looking for someone on OnlyFans , but all you have is a picture of them, you're in luck! With a new reverse image search tool called FaceCheck.ID face search engine, you can now find an OnlyFans profile by photo using the power of facial recognition. Can you use the OnlyFans website to find people by photo? If you're looking for someone on OnlyFans, you may wonder if there is a way to search for them by photo. Unfortunately, OnlyFans does not have a search function that allows you to...
---
On the subject in other languages
---