Reverse Image Search - Social Catfish vs FaceCheck.ID
Explore the Power of Image-Based Search with Social Catfish and FaceCheck.ID for Safe Online Connections

In this article, we're going to discuss
Two Leading Reverse Image Search Tools Compared
Hey there, internet explorer! 🌐 Ever found yourself chatting with someone online and wondering if they're really who they say they are? Or maybe you've stumbled upon an old friend's photo and want to reconnect? In this wild world of digital connections, knowing who's on the other side of the screen is more important (and intriguing!) than ever. If you're looking to learn how to avoid online dating scams or find the best facial recognition search tools, you're in the right place!
Enter the world of reverse lookup and identity verification services like Social Catfish and FaceCheck.ID! 🕵️‍♂️ These platforms are like super-sleuths for the digital age, perfect for those who want to verify online dating profiles or reconnect with long-lost friends. Whether you're playing detective on a potential date or just satisfying your curiosity, these identity verification tools have got your back. Let's dive in and see what they're all about!
Social Catfish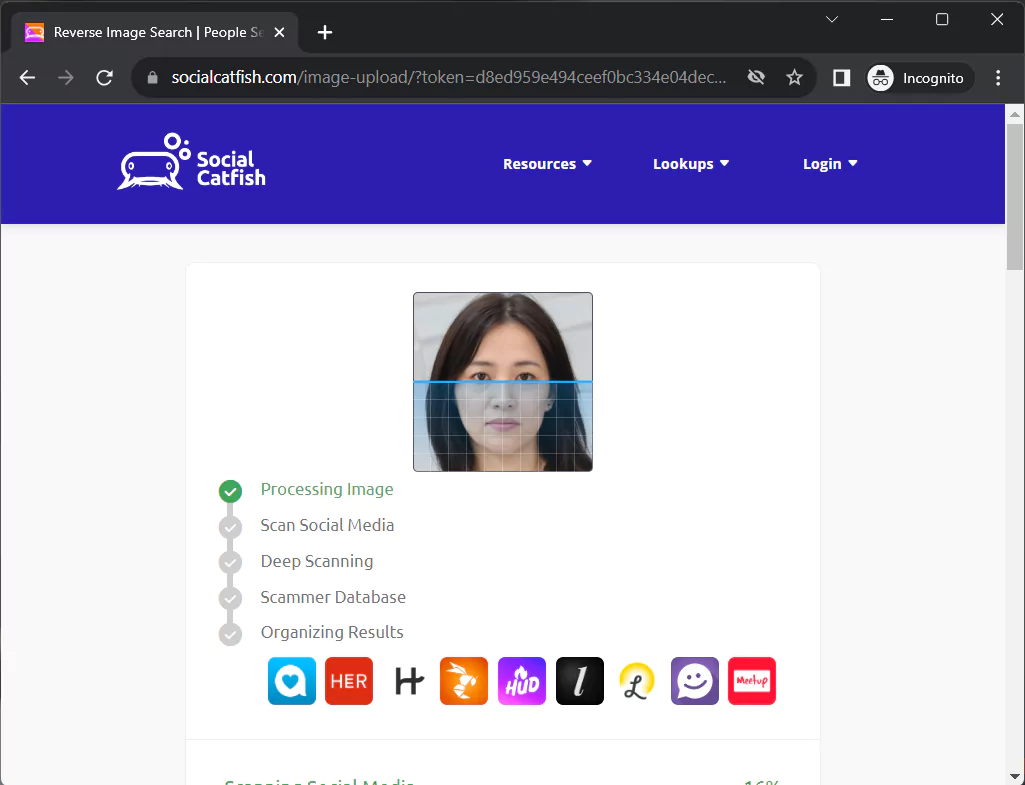 The Reverse Image Search Visualization by Social Catfish provides users with a representation of the search process. Upon uploading an image for reverse search, the screen displays a progress bar or animation that illustrates the ongoing analysis. This visualization not only adds an interactive element to the search but also keeps users informed about the stage of the process. As the system scans through various databases and online sources, the progress is incrementally updated, often accompanied by descriptive text or icons that indicate specific actions being taken, such as matching the image with profiles or identifying potential connections.
Overview
Welcome to Social Catfish! 🐱🐟 No, it's not a new species of fish, but a platform that helps you search and verify identities online. Want to find a long-lost friend, make sure your online date isn't a catfish, or learn how to recognize and deal with online dating scams? Social Catfish is here to help with its comprehensive reverse lookup tools!
Features
Reverse Lookups
Imagine having a magic wand that lets you search people by name, email, phone, username, address, or even image! ✨ Social Catfish's reverse lookup options are just that. Whatever information you have, Social Catfish can help you uncover the mystery, making it one of the best tools for identity verification online.
Catfishing Resources
Ever heard of catfishing? No, not the one with the fishing rod! 🎣 Social Catfish provides resources to understand and deal with online dating scams and catfishing. It's like having a guidebook for navigating the sometimes-tricky waters of online relationships, perfect for those new to online dating.
Global Reach
From New York to New Delhi, Social Catfish has a global reach. 🌍 Whether you're searching for someone next door or across the ocean, this platform has got you covered with its extensive reverse lookup options.
User Experience
Navigating Social Catfish is a breeze! With a user-friendly design and easy-to-use search functions, it's like having a personal detective agency right at your fingertips. 🕵️‍♀️
---
So, that's Social Catfish for you! Up next, we'll explore FaceCheck.ID, another fascinating tool in the world of digital detective work. Buckle up, because the adventure is just getting started! 🚀



FaceCheck.ID Overview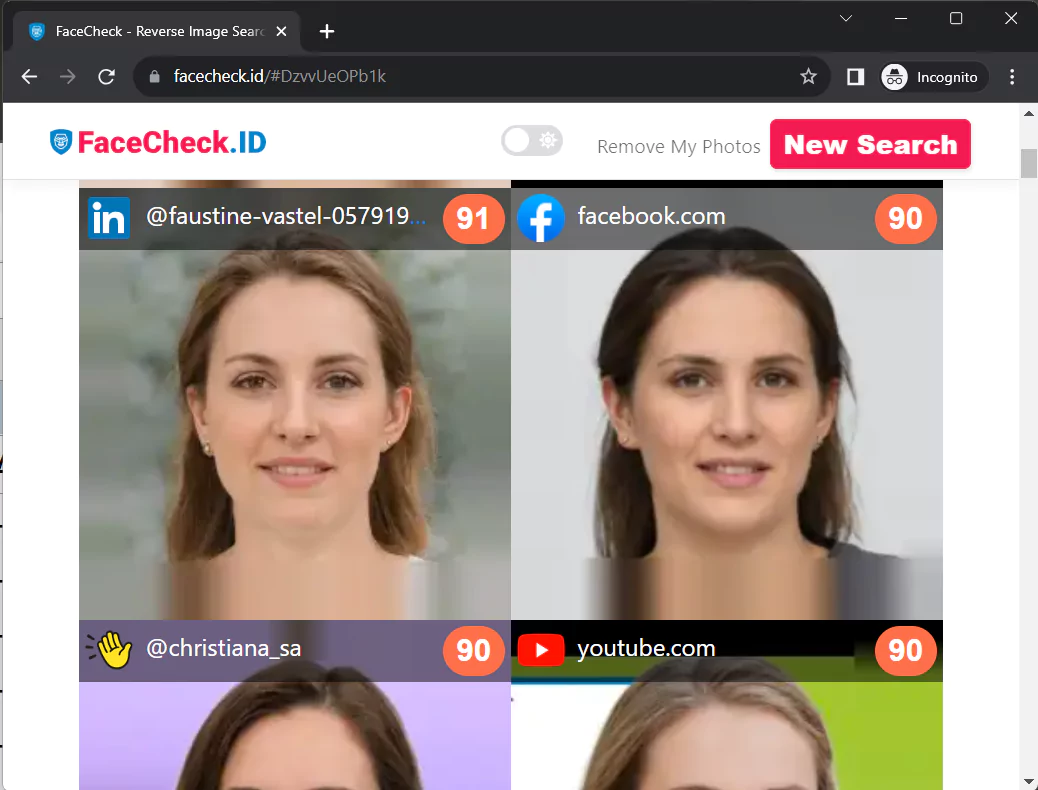 Facecheck.id's reverse image search results screen displays the corresponding color-coded match scores ranging from 0 to 100, indicating how well the image matches the source photo. These scores provide an immediate visual cue to the user, allowing for quick assessment of the relevance and accuracy of each match.
FaceCheck.ID, The Best Reverse Image Search for People?
Ready to take your detective skills to the next level? 🕶️ Say hello to FaceCheck.ID, one of the best facial recognition search tools out there! Just upload a photo, and voilà! FaceCheck will scour the internet to find matches. Whether you're looking to verify online dating profiles or simply explore the digital world, FaceCheck's facial recognition technology is your go-to solution.
Features
Face Recognition Search
Ever wondered where that profile picture has been before? 🖼️ With FaceCheck's face recognition search, you can find out! From social media accounts to mugshots, FaceCheck's facial recognition technology offers a unique way to verify identities online.
Safety Precautions
Safety first! 🛑 FaceCheck.ID isn't just about curiosity; it's about protection. By finding faces of criminals and other dangerous individuals, FaceCheck helps you steer clear of potential threats, making it an essential tool for those wanting to avoid online dating scams.
Removal Requests
Not a fan of being in the spotlight? 🌟 FaceCheck.ID respects your privacy. If you find your photo on their platform, you can request its removal. It's all about control and peace of mind in the digital world.
Criminal Checks
Want to make sure you're not chatting with a villain? 🦹 FaceCheck.ID can check against databases of mugshots and criminal records. It's like having a digital "bad guy" detector, perfect for enhancing safety in online dating.
User Experience
FaceCheck's website is as sleek and user-friendly as a futuristic gadget. 🚀 With a clean interface and straightforward search functionality, you'll feel like a tech-savvy detective in no time.


Complementing Each Other: Social Catfish and FaceCheck
Now, here's the exciting part! 🎉 Social Catfish and FaceCheck aren't rivals; they're like a dynamic duo in the world of identity verification. By searching different data sources and offering unique capabilities, they complement each other perfectly.
Casting the Widest Net: Want to catch all the information fish in the sea? 🎣 Use both platforms to get the most comprehensive verification process, whether you're verifying online dating profiles or conducting professional background checks.
Enhanced Safety: Combine their powers for ultimate safety, especially in the thrilling world of online dating, where knowing how to avoid online dating scams is paramount.
Optimized User Experience: Seamlessly switch between the two like a pro, leveraging their combined strengths for a complete identity verification experience.
Final Verdict
Ready to play detective with a Name or Email search? Social Catfish is your go-to partner, cracking the case with its robust search capabilities. But if you're on a photo hunt, grab your magnifying glass and head straight to FaceCheck's reverse photo search. Why? Because FaceCheck doesn't just match photos; it gives you a color-coded score, letting you know just how hot or cold you are on the trail. And here's the cherry on top: FaceCheck's vast database of romance scammers, sex offenders, and criminals adds an extra layer of peace of mind. It's not just about finding a match; it's about knowing who you're really looking at. So whether you're tracking down an old friend or ensuring your online safety, these tools have got you covered.
Bottom line
Social Catfish for names and emails, FaceCheck for photos - a dynamic duo for your digital detective toolkit! Happy sleuthing! 🕵️‍♂️🔍
---
How to use the image search on Socialcatfish.com
Reverse Image Search with me
Meet John, a self-proclaimed 'expert' in assembling IKEA furniture, with only a 27% success rate and a dating profile that once accidentally featured a picture of his neighbor's cat instead of him. (He still got a date out of it, but they were both disappointed for different reasons.) When he's not tangled in a web of incomprehensible instructions, spare screws, or awkward online dates, John enjoys attempting to cook gourmet meals using only a microwave and walking his goldfish (seriously, don't ask). With a knack for turning ordinary life into an extraordinary comedy, John's adventures are fueled by endless curiosity, an inexplicable love for mismatched socks, and an uncanny ability to find humor in the most unexpected places.
---
User Reviews of Socialcatfish.com
Socialcatfish.com has garnered a variety of user reviews on Trustpilot, reflecting different experiences with the platform. With a current TrustScore of 4.2, the service has been commended by many for its responsive customer service, while some users have expressed dissatisfaction with certain functionalities. The following insights are drawn from the most recent reviews on Trustpilot, providing a snapshot of public sentiment towards the platform.
Social Catfish Reviews
Crystal Morris (5 stars, Aug 5, 2023): "Great Customer Service - I didn't have good results on this site but their customer service was awesome! CHESCA responded to my request to cancel my membership within minutes. I was pleasantly surprised as I was expecting to have some challenges with it. Thanks again CHESCA!"
Brennan Nelson (5 stars, Aug 4, 2023): "Great experience! - Chesca was fabulous at assisting me promptly! There were no questions asked when I requested to cancel my membership and she was very friendly. It was a great experience overall and I would not hesitate to sign up again when/if the need arises. Its actually a really neat app :)"
Pat Gundry (5 stars, Jul 27, 2023): "Legit company - Makala was exceptionally helpful when I couldn't access my reports. She actually found my imposter and provided 3 reports. I was also impressed that this company had an actual person answer instead of an automated response."
Mike (3 stars, Feb 14, 2023): "Their search doesn't seem to work well at all for dating sites. I searched emails that I know for sure are linked to dating accounts and SocialCatfish doesn't bring back anything on it. They do however bring back generic results that you can find online yourself if you dig hard enough."
Allicit (1 star, Mar 14, 2023): "Fake site, deceptively trying to extort money from users - I tested this site using a variety of images with various results. Interestingly I used AI to produce a fake, non-existent person that was totally original. Strangely I received 31 hits on the profile image that had never been shared anywhere and was not even real. It suggested and flagged that the profile was connected with explicit imagery and that it was high risk to encourage me to pay to uncover more details. The site it fake, it does not do what it says it does, it fabricates details to gain money by deception."
Sharon Thomas (5 stars, May 27, 2023): "Bri was a constant and great help. She also sent me many links for my knowledge."
Carolyn Greco (5 stars, Updated Mar 20, 2023): "Excellent results. Very fast and affordable for most. Definitely required in today's dating society. Even if you're just becoming friends with someone you really should try this site. It's amazing. They found the guy I finally after 16 years decided to take a chance on dating again only to learn he was a scammer with several aliases worldwide. I'm so glad. Socialcatfishing.com saved me a lot of heartache and probably saved me my entire livelihood too."
---
Read More on Search by Picture
How to Find Someone Using a Screenshot
If you want to find someone by taking a screenshot from a video or website, the most effective reverse image search engine to find someone by a screenshot image is FaceCheck.id. FaceCheck uses cutting-edge facial recognition technology and is made especially to find people by a screenshot image of their face. How to reverse image search to find someone. You probably already tried big search engines like Google or TinEye to search for someone by photo. However, you found that they are not...
---
On the subject in other languages
---