YouTube Reverse Image Search to Find YouTubers by Photo using Facial Recognition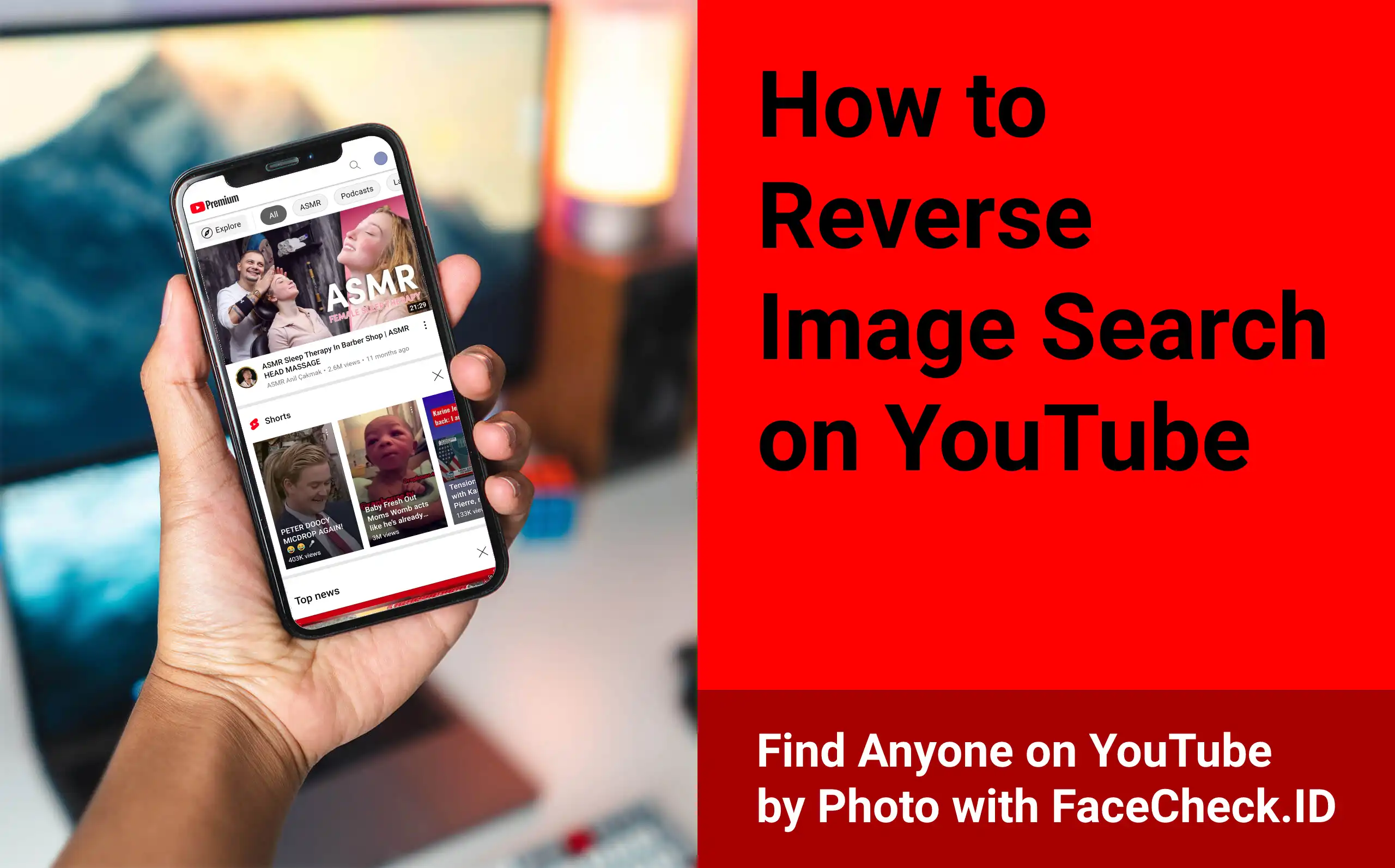 Have you ever seen someone in a YouTube video and asked, "Who is That?" And you wanted to find out who they are? Well, now there's an easy way to do just that - with FaceCheck.ID you can search YouTube thumbnail images by face!
Can you use YouTube to find people by photo?
No, you can't use YouTube to find people by photo. But you can use 3rd Party tool FaceCheck.ID. Just head to FaceCheck.ID and upload a photo. FaceCheck.ID will then show you a list of people in YouTube videos who look like the person in the photo.
What is YouTube Reverse Image Search FaceCheck.ID?
YouTube Reverse Image Search FaceCheck.ID is a new face search engine that allows you to search for YouTubers by photo. That means you can now find a YouTuber by photo using the face search engine FaceCheck.ID.
How does reverse face search work?
Upload an photo of a person of interest and FaceCheck.ID will search YouTube Thumbnails for any instances of that person. If there are any YouTube videos that contain that person, they will be returned in the results.
Why is this useful?
This is a great way to find somebody on YouTube if you only have a picture of them. For example, if you see someone in a video but don't know their name, you can use YouTube reverse image search FaceCheck.ID to find out who they are.
Give Facial Recognition Search a Try!
Try YouTube Reverse Image Search FaceCheck.ID today and see how easy it is to find a YouTuber by photo using their pic.
How to Use YouTube Image Search
FaceCheck.ID's YouTube thumbnail search is a quick and easy way to find the person you're searching for. Whether looking for a YouTuber by their pic or just seeking some inspiration, a reverse image search engine can help you find what you're looking for.
Suppose you're looking for a YouTuber by photo, FaceCheck.ID facial search is a great way to find the right person.
Pros and Cons of Using YouTube Face Image Search
When finding people on YouTube, the face image search option can be helpful. But, there are also some drawbacks to face searching. Here are some pros and cons of using YouTube face image search:
Pros
You can find someone even if you don't know their name, YouTube channel, or username.
It can help find lost friends or family members.
You can find out what your potential date looks like in a YouTube video.
Cons
The results can be limited depending on the quality of the image.
The search may bring up irrelevant results if the person has used a face tune.
FaceCheck.ID searches only thumbnails, not the actual video content frame by frame.
How to Find YouTubers by Photo
With FaceCheck.ID, it is now possible to find YouTubers by photo using advanced facial recognition.
The site uses facial recognition software to search for matches. This process usually takes a few seconds, and you will be presented with a list of possible results.
What is AI Facial Recognition, and How Does It Work?
When you upload a photo to FaceCheck.ID, our neural-net based algorithms analyze the picture to extract specific facial landmarks. These landmarks are then used to create a unique "faceprint" stored in our database.
When you search for an individual using FaceCheck.ID, our algorithms compare the faceprint of the person in the photo with the faceprints in our database. If there is a close match, we will return results to you.
FaceCheck.ID Face Search Engine
If you can't find the YouTuber you're looking for, try uploading a few different images of the person. With FaceCheck.ID, not only can you find YouTube videos, but also you'll be searching many social media sites like Facebook, Twitter, LinkedIn, YouTube, Instagram, OnlyFans, and many others.
---
Read More on Facial Recognition Search
Top 7 Reverse Image Search Engines for Face Search Compared
TLDR. (Too Long Didn't Read). Google, Bing, TinEye, and Image Raider do not work well with faces and searching for people. FaceCheck.ID, Yandex, and PimEyes are face recognition search engines and return good results when searching for people by face. FaceCheck.ID excels when it comes to searching for people on social media. When you want to find a person by photo. There are a few image search engines available, but which one is the best for finding people online? To help you decide, we've...
---