Instagram Image Search to Find Instagram Profile by Photo using Face Search Engine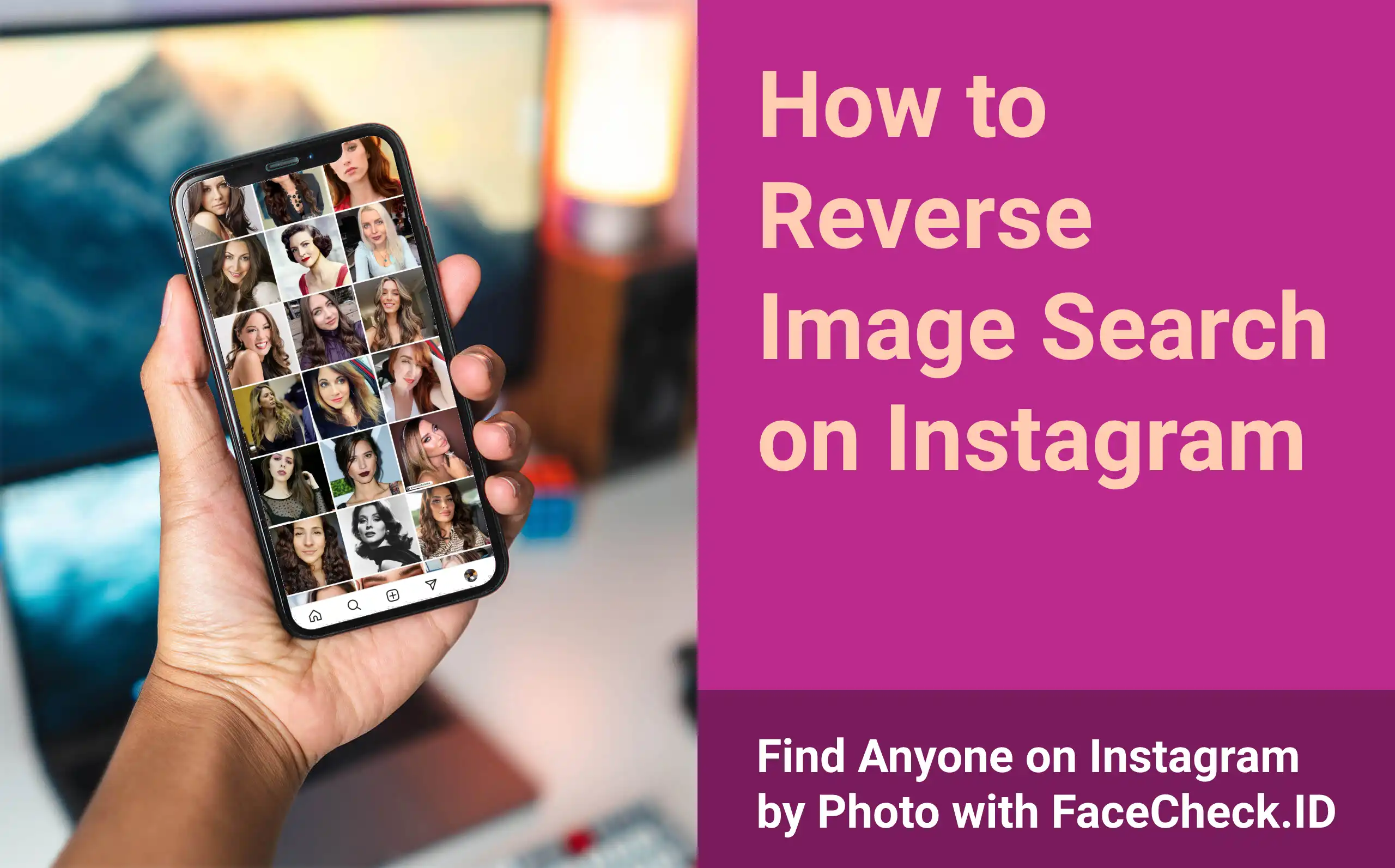 Instagram is one of the most popular social networking platforms, with over a billion monthly users. With such a large user base, many people are looking for ways to search for specific Instagram users and find out more about them. We'll show you how to use a face search engine to do an Instagram image search and find an Instagram profile by photo.
In this article, we're going to discuss
Can you use the Instagram app to find people by photo?
You cannot reverse search Instagram through their app and instagram images are not indexed by google. Even so, if the profile is not private you may be able to find the profile using a 3rd party face search engine FaceCheck.ID.
What is Instagram Reverse Image Search FaceCheck.ID?
FaceCheck.ID is an Instagram reverse image search tool that allows you to search for an Instagram profile by using a picture of a person. This is also known as a face search engine. All you need to do is upload a photo of someone, and the tool will scour Instagram for matching faces. This is a great way to find someone's Instagram profile if you only have a picture of them.
How to Use Instagram Image Search
Instagram image search is a great way to find someone's profile if you only have a picture of them. You can use the face search engine FaceCheck.ID to locate the Instagram profile that matches the face on the searched photo. Here's how:
1. Go to the face search engine FaceCheck.ID and upload the image you want to search with. It can be a screenshot or a cropped photo of the person. It must clearly show the person's face.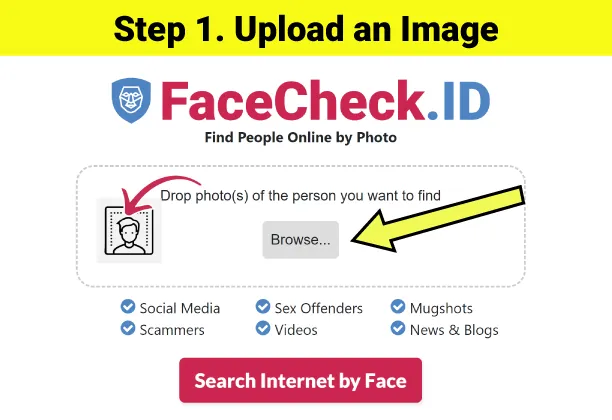 2. Click on the Search Button to search Instagram (and other social media) for the photo you've uploaded. Optionally you can upload up to 3 photos of the person of interest from diferent angles to get more comprehensive search results.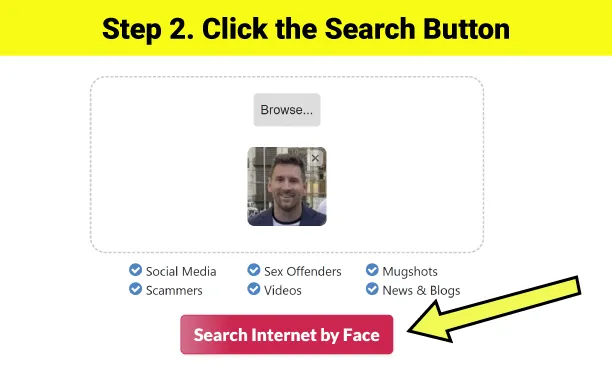 3. Wait for the results to populate. This may take a few moments since the facial search engine is searching millions of Instagram profile pics and posts for your person of interest.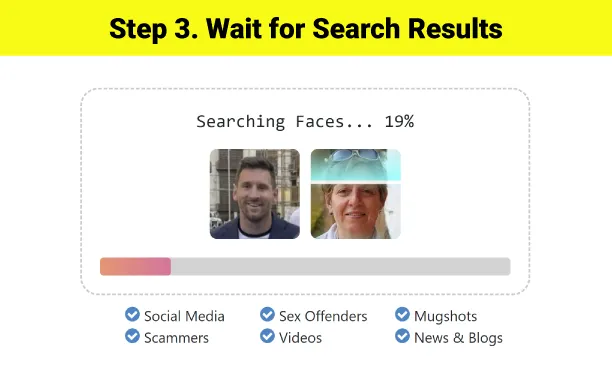 4. Click on the Instagram profile that matches the image you uploaded. You will be redirected to that user's profile page on Instagram. From here, you can follow them, send them a message, or view their posts.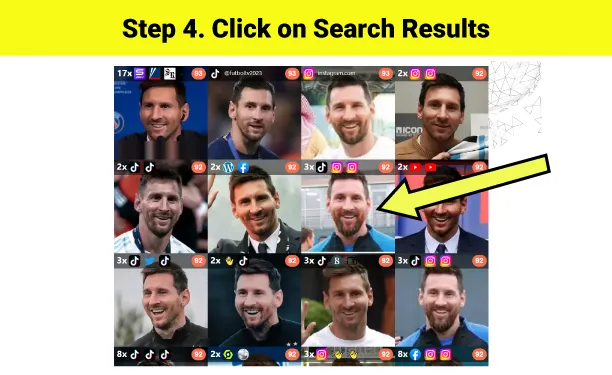 Pros and Cons of Using Instagram Face Image Search
Since its inception, Instagram has become one of the most popular social media platforms. With over 1 billion monthly active users, it's no surprise that many people use the site to share photos and connect with friends and family.
However, what some people may not realize is that Instagram makes public every photo they upload for everyone to see. By using the facial recognition search engine FaceCheck.ID, you can find just about any Instagram profile by searching for a photo of a person's face.
Of course, there are pros and cons to using this method. Before using an Instagram image search, let's look at some key points to consider.
Pros
Can be very effective in finding an Instagram profile if you have a good-quality photo
Is a quick and easy way to search for someone on Instagram
Face Search Engine FaceCheck.ID works much better than reverse image search such as Google Images when it comes to finding people. It's because FaceCheck.ID is using facial recognition AI.
Cons
Less effective if you don't have a quality photo
With 50 billions of photos on Instagram, not every photo is indexed in the search engine
May not find a match if the person is not very active or does not share photos of their face
Will not work if their profile is private and they don't have a profile picture showing their face
How to Find an Instagram Profile by Photo
If you're looking for someone on Instagram and all you have is a photo, you can still find their profile using a reverse face image search. There are a few different ways, but we'll show you the easiest way by using a free online tool called FaceCheck.ID Face Search Engine.
First, go to the Face Search Engine FaceCheck.ID and upload the photo you want to use to search for the Instagram profile. Then, click on the "Search" button.
The Face Search Engine FaceCheck.ID will then scan its database of images and return any results that match the photo you uploaded. In most cases, you'll be able to find the Instagram profile you're looking for within the first few results.
If you can't find the exact Instagram profile you're looking for, try several different images of the person. With FaceCheck.ID, not only can you find Instagram profiles, but also you'll be searching all social media platforms like Instagram, Facebook, Twitter, LinkedIn, YouTube, OnlyFans, and many others.
---
Instagram Reverse Image Search
---
More on Facial Recognition Search
Is There a FREE Facial Recognition Site?
Yes, FaceCheck.ID offers a free tier that lets users tap into its facial recognition capabilities. Before considering premium options, users can test out FaceCheck.ID's free version for its efficiency. How to Use a Free Facial Recognition Site: If you're looking for a free facial recognition platform, FaceCheck.ID is a top choice. Start by accessing FaceCheck.ID and using its free tier, which offers efficient facial recognition capabilities. For those who require more advanced...
---
On the subject in other languages
---